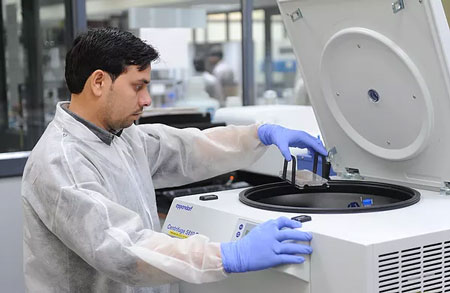 Pathology is the study of the causes and effects of disease, especially of the structural abnormalities produced by disease. The three broad subtypes of pathology are anatomical pathology, clinical pathology, and molecular pathology. Different types of pathlab test under biochemistry, clinical pathology, serology and profiles. Healing Touch diagnostics is a leading private independent Clinical Diagnostic Centre, offering a fast efficient service to you, your clients or your patients.
Our fully inclusive prices are extremely competitive and we are able to offer discounts to regular, large volume users.
Registered clients are provided with access to our secure client information area. Here, you are able to access on-line results, view our A-Z lists of tests and profiles and confirm sample requirements for a specific test or profile. A leading blood test laboratory of India, path lab now makes it easy and convenient for patients to check their lab test results online with just a couple of clicks.
Here at Healing Touch Diagnostics, we aim to provide our many clients, no matter how large or small, a dedicated personalized efficient service. Tests, profiles and kits can be made up to meet clients' specific requirements and budget constraints.
Healing Touch Diagnostics is committed to meeting our clients' requirements and to the quality of the service it provides. We, as a Company is back by two accredited doctors to ISO 9001:2015, registered with various NEQAS schemes and professional organizations.
All of our staff are fully qualified and belong to many professional bodies and institutes. All of the staff receive both in-house and external training to maintain high levels of expertise and knowledge in all our testing fields, management, and administration. It is a leading private independent clinical diagnostic centre, offering a fast efficient service to you, your clients or your patients.
| No | HEMATOLOGY | Rate |
| --- | --- | --- |
| 1 | CBC | 250 |
| 2 | ESR | 150 |
| 3 | BLOOD GROUP | 150 |
| 4 | BT CT | 200 |
| 5 | G6PD | 600 |
| 6 | PROTHROMBN TIME | 500 |
| 7 | MALARIAL PARASITE | 200 |
| 8 | WIDAL | 200 |
| 9 | BILLIRUBIN | 200 |
| 10 | MALARIA ANTIGEN | 500 |
| No | CLINIAL PATHOLOGY | Rate |
| --- | --- | --- |
| 1 | URINE ROUTINE | 100 |
| 2 | URINE CULTURE | 900 |
| 3 | STOOL ROUTINE | 100 |
| 4 | SPUTUM ROUTINE | 200 |
| 5 | SPUTUM AFB | 200 |
| 6 | PREGNANCY TEST | 200 |
| 7 | VIT D3 | 1500 |
| 8 | VIT B12 | 1000 |
| No | BIOCHEMISTRY | Rate |
| --- | --- | --- |
| 1 | BLOOD SUGAR FASTING | 100 |
| 2 | BLOOD SUGAR POST PRANDIAL | 100 |
| 3 | HBA1C | 700 |
| 4 | CHOLESTROL | 250 |
| 5 | URIC ACID | 200 |
| 6 | BUN | 200 |
| 7 | CREATININE | 200 |
| 8 | BILIRUBIN | 200 |
| 9 | SGOT | 200 |
| 10 | SGPT | 200 |
| 11 | CALCIUM | 270 |
| 12 | AMYLASE | 500 |
| 13 | RBS | 100 |
| 14 | MP | 100 |
| 15 | S POTASIUM | 250 |
| 16 | S SODIUM | 250 |
| No | SEROLOGY | Rate |
| --- | --- | --- |
| 1 | WIDAL | 200 |
| 2 | VDRL | 400 |
| 3 | RA TEST | 600 |
| 4 | MONTOUX TEST | 200 |
| 5 | HBSAG | 500 |
| 6 | HIV 1 & 2 | 500 |
| 7 | HCV | 800 |
| 8 | T3 T4 SH | 750 |
| 9 | TSH | 300 |
| 10 | PROLACTIN | 500 |
| 11 | DENGUE NS 1 | 600 |
| 12 | RAPID TYPHOID | 950 |
| 13 | PROLACTING | 500 |
| 14 | PROLACTIN | 600 |
| 15 | ELECTROLYTES | 500 |
| No | TESTS | Rate |
| --- | --- | --- |
| 1 | S.psa | 600 |
| 2 | PTNIR | 500 |
| No | PROFILES | Rate |
| --- | --- | --- |
| 1 | LIPID PROFILE | 700 |
| 2 | RENAL FUNCTION TEST | 1200 |
| 3 | LIVER FUNCTION TEST | 800 |